Optimize Your Pay Per Click Campaigns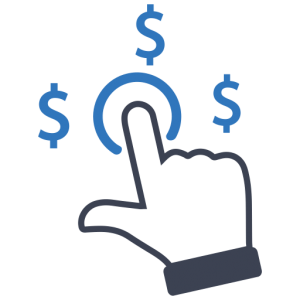 Pay per click, or PPC for short, is a model of internet marketing in which advertisers pay a fee each time one of their ads is clicked. Essentially, it's a way of buying visits to a website, rather than attempting to "earn" those visits organically. Pay per click advertising is one of the most popular forms of online advertising because it allows advertisers to bid for ad placements on search engines when someone searches on a keyword that is related to their business offering.
Our pay per click optimization services work to manage, test, refine and ultimately improve your PPC campaigns. Without professional optimization of these campaigns it is very easy to spend, and in many cases waste, a lot of money running pay per click ads. Ad platforms, like Google AdWords and Bing Ads, make it very easy to get a PPC campaign setup and running. However, they also make it very easy to run up your ad spend unless you really know what you're doing. To really maximize your ad spend, and squeeze the best possible results out of it, you need to continuously optimize your pay per click campaigns.
A Four Stage PPC Strategy That Works!
CREATE
All SEO projects begin with a deep analysis of your business and your competition. We use tools and historical data to compile as much data as we can to put together a custom strategy that works for your specific business needs.
TEST
Once we have analyzed enough data we get work on your on-page optimization doing things like meta optimization and code optimization. This stage ensures that your webpage is attractive to web crawlers and responsive to visitors.
TRACK
Before we can get out there and promote your domain we will need to develop quality content that is both useful and relevant to your target market. This includes the development of quality webpages and inbound marketing content.
ADJUST
At this stage we are ready to promote your website to search engines using many tactics which include link building, link baiting, sharing, inbound marketing, social media, directory submissions etc. This stage is where the results really kick in.
Pay Per Click Tactics That Get Results!
Campaign Development

Being able to consistently produce campaigns that achieve results is the difference between an amateur and a professional pay per click manager. In order to achieve consistent results we follow a systematic process covering these three core processes of research, implementation, and optimization.
Keyword Research

As successful PPC campaign managers we continuously grow and refine keyword lists. If you only do keyword research once, when you create your first campaign, you are probably missing out on hundreds of thousands of valuable, long-tail, low-cost and highly relevant keywords that could be driving traffic to your site.
Quality Scoring

Quality Score is Google's rating of the quality and relevance of your keywords, landing pages, and PPC campaigns. Advertisers with better Quality Scores get more ad clicks at lower costs. We also monitor bid quality scores to make sure we don't target keywords which are very competitive and convert poorly.
Negative Keywording

Not all keywords are healthy for PPC campaigns, in fact some keywords phrases may seem like obvious choices but may in fact be toxic. We eliminate the use these non-converting negative keywords to improve campaign relevancy and reduce wasted spend.
Group Splitting

Not all searchers can be targeted within a single campaign. We improve click-through rate (CTR) and Quality Score by splitting up ad groups into smaller, more relevant ad groups, which help you create more targeted ad text and landing pages.
Constant Refinement

We squeeze the best possible results out of your investment by continuously optimizing your campaigns. As with search engine optimization, PPC optimization is not something you do once and then sit back and wait for results.
Keyword Alerts

We perform competitor keyword audits and provide reports related to these targeted keywords. This allows us to constantly keep an eye out on yours and your competitors rankings for specific keyword phrases.
Landing Page Optimization

Quality ads require quality landing pages. This is the page which a visitor lands on after clicking one of our ads. This page must be properly setup in order to convert and prevent this visitor from bouncing back to where they came from.
ROI Optimization

All of our tactics are utilized to make sure that your receive a high return on investment from your advertising campaigns. We constantly review our efforts and will remove any expensive keywords and shut any under-performing campaign or groups if necessary.
Behavioral Targeting

Search engines collect a lot of data on their users and we are able to utilize this data inside campaigns to target ads based on past recent experience and/or implied intent. For example, if you recently searched for auto insurance, and then later your reading a book review, the page may still show you auto insurance ads.
Contextual Advertising

Not all pay per click ads are displayed on search results pages. PPC ads can be displayed on webpages that contain content related to the keywords you are targeting. We setup campaign programs to generate relevant advertisements based on the content of a webpage.
Day Parting

We monitor the timing of your advertising efforts by turning ad campaigns on or off, changing ad bid price, or budget constraints based on bidding more when your target audience is available and less when they are less likely to be available.
Add PPC Optimization To Your Marketing Mix
As we've stated before, it is important to mix in PPC advertising with your SEO efforts as they both have their advantages and disadvantages. Organic search allows you to reach your target audience for free however paid search allows you to reach targets that you're not able to reach with search engine optimization. As optimized as a website can be your it will never be able to target every single keyword phrase. Eventually all websites will have to invest in some form of paid search advertising if they want to reach everyone, and yes everybody uses search.
LET'S GET STARTED!