Transparency Is The Best Policy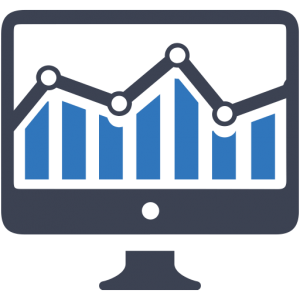 Access to our internet marketing analytics and metrics are extremely valuable to companies and businesses as it will prevent you from wasting time and money pursuing keywords or niches which are already entrenched. Want to know what is and isn't working on your site? Our internet marketing analytics software can tell you. We are able to interpret these marketing statistics to tell you where your website is performing. We then turn this data into actionable strategies which boost conversions and interactions on your website. You will be able to measure your success as well as visually see us work or magic.
We believe in transparency and provide our clients with private access to all of the data we collect on your website as well as insights to all the work we are doing for you. We don't just tell you we have done something, we show it to you using real time spreadsheets, widgets and graphs. All the work we do is measurable, calculable and displayed to you so that you can be sure we are living up to our word. Our transparency philosophy allows our clients to log into our back end of our website and view real-time internet marketing analytics and metrics regarding their online marketing campaigns.
View Marketing Analytics Anywhere
Keyword Research

Before we go forward with any SEO efforts we work together with our clients to compile a list of potential keywords they are interested in. We then take this list and further refine it using historical data and specialized software until we are confident with the selection. Get Suggestions, Spy on Competitors, research Keywords from Search Console and the Keyword Basket.
Internal Link Statistics

Investigate how much link juice your important pages are receiving and what anchor texts are used in them. See which webpages are wasting link juice because they are linking to blocked pages. Also see how much link juice a page is passing and receiving and learn how authoritative it is in the eyes of the search engines.
Technical Audits

Get a detailed report about technical errors such as broken links and anchors, server issues, etc. that can negatively affect your search engine rankings; get advice on how to fix them immediately. Analyze your website for embarrassing usability issues such as inaccessible pages, missing images, slow pages, etc.
SEO Analysis

View on-Site Issues Overview, Landing Pages Overview, Landing Page SEO, Page Speed, Mobile Optimization and Popular Pages. Run a general audit of your site and get an SEO report on all SEO issues and then follow the tips to fix them all. Run mobile friendliness checks for any webpage and make all your pages mobile-friendly.
Backlink Quality Check

Check competitor Link Profiles, Linking Domains, Backlinks, Link Texts, My Most Linked Pages and Toxic Links. Track how well your website is doing compared to your competition. See what your competitors' weak points are. This will help you to craft an outranking strategy.
Competitor Backlink Spy

Evaluate the quality of pages linking to your competitors. Start your link building with the pages that have high Google PR and link to two or more competitors because they will bring the most value. Schedule the Competitor Backlink Spy report to run automatically weekly, monthly or quarterly to be sure your competitor information is up-to-date.
Chosen Links Watch

Monitor backlinks that you have previously earned based on your partnerships. Check if those backlinks are still there, if they've been cloaked or nofollowed, if the donor pages still have high PR and if the pages haven't changed their topic, etc. Stay on top of tracked links and constantly monitor those particular links for effectiveness.
Content Submissions

Compare the number of your total backlinks, the diversity of linking domains, number of .GOV and .EDU domains links and nofollow links that pass no link juice to the linked pages with your competitors' metrics. View automatic, standard, local, eCommerce, content and blog Submission Results
Web Buzz Monitoring

Be informed when your most important keywords (including competitor names) are mentioned on hundreds of thousands of discussion forums, blogs, microblogs, social networks, bookmarks and other sites with communication functions. Analyze your competitors' social activities and set realistic benchmarks for your brand.
Social Engagement

Track social activity that links back to your landing pages from Facebook, Google+, LinkedIn and Pinterest to know how you should fine-tune your social media marketing. Analyze your social activity effectiveness and learn how many targeted visitors your social media marketing brings.
Web Analytics

Get the most important data on your visitor traffic volume and sources, visitor demographics and their behavior, completed goals and more. Combine this data with your SEO performance metrics to get a best-of-breed marketing analytics mix.
Google Search Analytics

An integrated Google Search Console (formerly Webmaster Tools) report to see the top search queries that bring visitors to your site. Information on impressions and clicks to help you optimize pages for the best-performing keywords. View your top queries, Top pages, top countries and top devices.
Competitor Metrics

Learn how visible the competition's sites are to develop your own promotional strategy. Compare their rankings to yours and understand what keywords and pages need your immediate attention. This tools allows you to view: Competitor Traffic, Competitor Link Profiles, Competitor Social Citations, Competitor Rankings Overview, Competitor Rankings by Keyword and Competitor Rankings by search engine.
Sitemap Generation

A sitemap is an XML file that lists URLs of a website along with additional metadata about each URL so that search engines can more intelligently crawl the site. This can help them to order the crawling of the Web site based on priority information. You can view your sitemap right within our client marketing analytics console.
Facebook Insights

The easiest way to keep track of your audience on Facebook is to simply log into our client portal. We can add up to 5 Facebook pages that are popular in your niche. You can track your fan page as well as 4 your competitor's and compare their popularity.This report is part of the Facebook Insights tool and you  Niche Popular Topics, Page Metrics, Page Demographics
Rank Tracking

Check website rankings on schedule (daily, weekly, monthly or quarterly) across 370+ global and local search engines. Track ALL rankings, including organic search results, ads and vertical listings (News, Videos, Images, Maps and more). Now that mobile search has gained almost 50% of all searches, be sure to track your website rankings on mobile devices as well.
LET'S GET STARTED!